Nephilim Quest 4 / The Book of the Dead / 180.000 words (now at 60.000 words)

The Death of a Vampire / PUBLISHED ON 28TH AUGUST ON AMAZON

Space Witches 3 / 66.000 words (now at 64.500 words)

The House of the Morning Sun / PUBLISHED ON 25TH AUGUST 2019 ON AMAZON

Bastet Mysteries 50.000 words (now at 25.000 words)
leena maria's photo blog
book and pyramid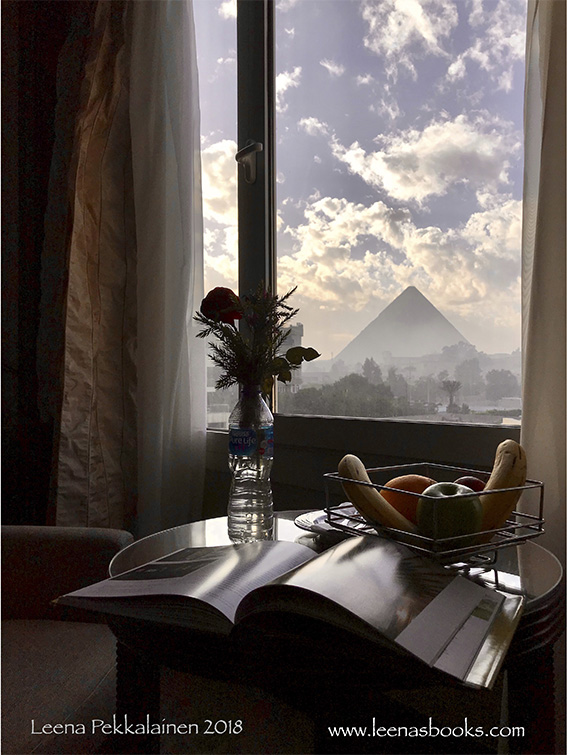 What better view for an Egyptologist and a writer? Reading a book with the magnificent view to the pyramids of Giza through the hotel room window.
We visited Cairo in November-December of 2018. After my own book reading at the American University in Cairo bookstore we returned to the hotel. I opened one of the many books I had carried away from the store (you know me - I can never leave a bookstore without buying books...). I sat in the armchair and lifted my gaze. The view took my breath away and I took a photo of it. This has to be one of my favourite photographs ever. 
The rose in the water bottle was give to me by our tour guide. 
I could imagine returning to this room and this spot with another lovely book. What better thing there could be - to read and write about ancient Egypt, with the history literally staring back at me through the window. 



The first book you get for free is the Prequel to Nephilim Quest: Angel.

Over two hundred years before Nephilim Quest 1 / Shadowhunter the roots of the story are planted.

A little girl missing her mother, in the palace of the mightiest of the dark Nephilim, hoping for an escape...  

This book is not for sale anywhere - only readers who have subscribed to my mailing list will get it.