Anyone with cats know they are very eager to dist... erm, help you in your writing.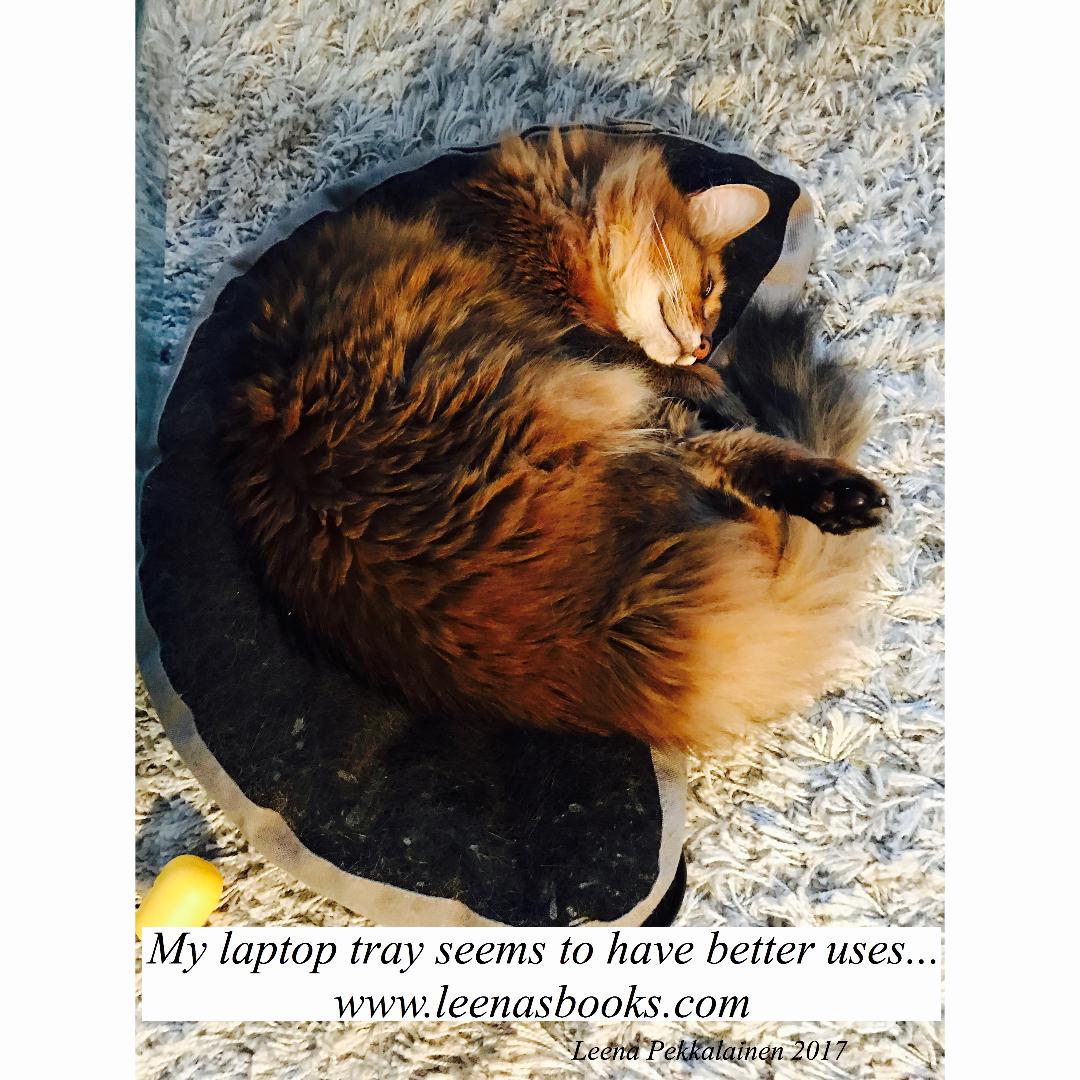 They lie on your lap, they tap on your keyboard - they even lie on your keyboard. Chasing the cursor is also great fun, especially if the cat is young.  Running over the keyboard is also very handy when the cat wishes to inform its purrson that feeding time is near. 
I got myself a laptop so I would not be tied to the desk when I write. 
In my mind's eye I saw myself sitting on the couch. Or in an armchair. Traveling with the laptop - taking it with me on travels abroad... Sitting in coffee shops and typing away like a proper author.
Well, I've done all that. But when I was at home I wanted to have a laptop tray when I was not sitting by a horizontal surface.
I saw the perfect tray when we went to Ikea one day. Soft padding on the underside. Light to carry. Perfect.
I brought it home and used it happily for a few weeks. Then one day I did not put it away properly but just dropped it on the floor for a short while. The intention was to continue writing after a break. 
It took less than a minute before the tray was occupied. The padding was comfortably upwards, and the kidney-like shape was just perfect - for a cat. I didn't have the heart to shoo the cat off, and so, after a few days the tray was so furry I would not have been surprised even if it had began to move on its own. Even if I am used to having cat hair all over my clothing, the wig-like concentration of cat hair was too much even for me.
And so, these days I have two laptop trays. Writer's helper can keep his, and I put mine between a chair and the wall - vertically placed so the felines of the house will not get any ideas...